Chizu-Cho
A truly beautiful rural town in Tottori, Japan
Tanoshi (楽之)

Information about Tanoshi
Tanoshi means "fun" in Japanese and this restaurant has an element of that. It's a great, relaxing place for lunch, dinner, or a cake and coffee or beer (if you are in the historic Chizushuku area).
The restaurant is in a stylishly refurbished house that was built in 1890. The owners have used old farmers' tools to serve as door handles and other unique features. You must check out the "chandelier" made from rice scythes. The interior is all wood and has a log stove, which evokes a nostalgic atmosphere.
Upstairs, there is a dormitory-style guest house; and at the back, there is a converted two-storey kura (rice storehouse) that serves as exhibition space for local artists.
The food is excellent - very well cooked, using locally-sourced produce, and beautifully presented. The chef and servers are very friendly. Lunch consists of a hamburger plate with a variety of side dishes, risotto, and a keema curry plate. Dinner offers a variety of pasta dishes. From 2 pm, you can get a very tasty chicken panino sandwich. And... at any time, you must try the cakes - the richest tatsing dried fruit pound cake, and an amazingly chocolatey gateau chocolat.
Tanoshi is very community-spirited and serves as a hub for cultural events. In the evenings, locals gather to chat at the bar. It also has a lot of flyers and pamphlets on what to do in Chizu.
Open:

Weds-Fri
Lunch - 11:30-14:30 (LO 14:00)
Dinner - 17:30-22:00 (LO 21:30)
Saturdays
Lunch - 11:30-14:30 (LO 14:00)
Cafe - 14:30-17:00 (LO 16:30)
Dinner - 17:30-22:00 (LO 21:30)
Sundays
Lunch - 11:30-14:30 (LO 14:00)
Cafe - 14:30-17:00 (LO 16:30)
Dinner - 17:30-21:30 (LO 21:00)
Photographs
Tanoshi
Exhibition space
The counter / bar
One of Tanoshi's rooms
Another room
The hamburger plate
Delicious pound cake
The rice-scythe "chandelier"
Door handles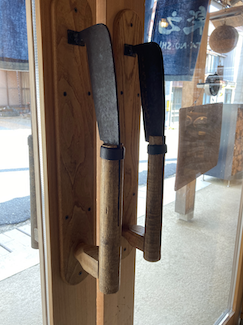 The entrance
Tanoshi's lovely message
Something good happened today
Because I got to meet you.
I'm glad I met you.
Tanoshi
Tanoshi

How to get to Tanoshi
Please come and visit to see just
how beautiful Tanoshi is
(and how delicious the food is):
Address:
484 Chizu, Yazu District, Tottori 689-1402
Telephone: 0858-71-0634
Website: Click here
Facebook: Click here
Instagram: Click here
Getting there: Tanoshi is 8 minutes on foot from Chizu station; 3 minutes by car.
Parking: The Tamoshi car park (next to the restaurant) has space for 6 cars. There is space for an additional 4 cars if you head up the road (towards the mountains) and turm left. Drive for 100 metres and you'll see a small Tanoshi P (parking) sign to your left. Only park in the four spaces at the back with the blue Tanoshi signs..
Google Map:

More About Chizu:

Chizu is officially one of Japan's most beautiful villages:
http://utsukushii-mura.jp/chizu/
Photos and text copyright of
Chizu-cho.com 2023